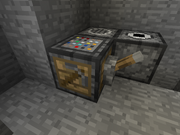 The Miner is a machine that slowly mines a 32x32x32 area beneath it.
It needs to be placed directly next to an engine and needs a redstone signal powering it.
When a Chest is placed directly above it, it will deposit its output in that chest.
A miner does not mine every block.