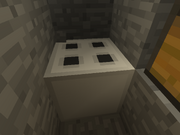 The Heater is a machine that is required to produce steam.
A Heater must be placed beneath a filled Cauldron. In order to make it work, you will need to right-click it with Coal or Charcoal. After that, it will stay on for a while and produce up to 10 steam.
The Heater can be upgraded to a Steam-O-Matic.